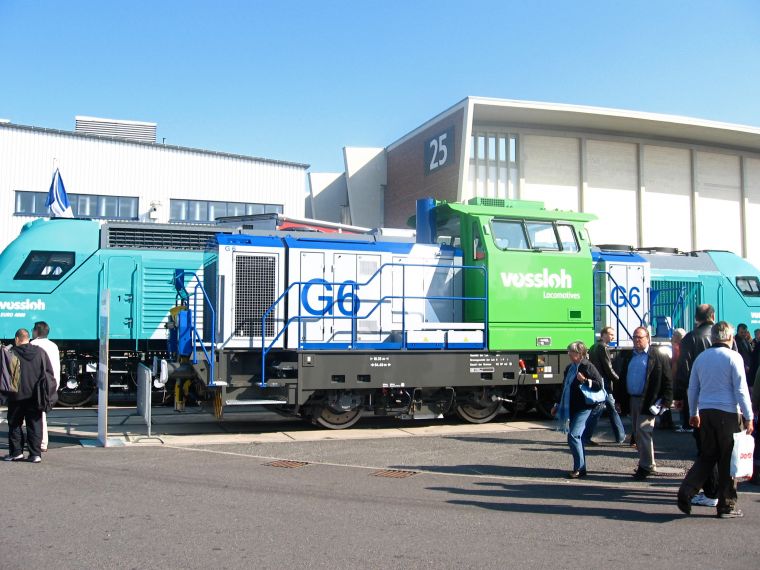 Posted: 1 October 2008

This work is licensed under a Creative Commons Germany license.
Notes
One could be forgiven for thinking that Vossloh is one company. Actually, it's two, or rather one split into two completely independent and separate parts. On the one hand, there's the german Vossloh, which used to be MaK and produces diesel-hydraulic locomotives. On the other, there is the spanish Vossloh, which used to be the spanish part of Alstom and produces diesel-electric locomotives. As you can see, apparently both company parts didn't even manage to agree on a the same shade of green.
In front is the german Vossloh G6, a diesel-hydraulic switcher, successor of a variety of different types such as the G400. With a top speed of 35 kph (22 mph), optionally with an additional gear 80 kph (50 mph) and a power of 650 kW (871 HP) is roughly similar to the west-german V60. DB isn't looking to replace that type right now, but since those units are already fifty years old (some more, some less), it's quite possible that Vossloh is secretly hoping for some orders from that direction.
The rear unit, of which I might post a second picture later (I'm afraid I don't have a really good one) is the spanish Vossloh Euro4000, powered by EMD, based on an Alstom platform and not coincidentally rather similar to the british Class 67 (Picture by GB-Railways), which also comes from this company, although I think it was still under the Alstom name back then. It has a power output of 3178 kW (4260 HP) and a top speed of either 120 kph (75 mph, freight version) or 160 kph (100 mph, passenger version).
1 Comments
Denis Verheyden
Actually the G6 is the direct successor of the G765, which was an older, 3rd generation MaK design but still built in the 2000s.

The reason why the locos are in different shades of green ? The Euro 4000 is in Alpha Trains livery, not in Vossloh livery ! Compare with the other Alpha Trains locos (BR185.5): http://www.railcolor.net/index.php?nav=1405197&lang=1&id=64843&action=portrait
Same shade of green, no ?

And now the Euro 4000 in Vossloh works livery, at InnoTrans 2006:
http://www.railcolor.net/index.php?nav=1405852&lang=1&id=42076&action=portrait
Same shade of green as the G6..
New comments can no longer be posted because it got to annoying to fight all the spam.