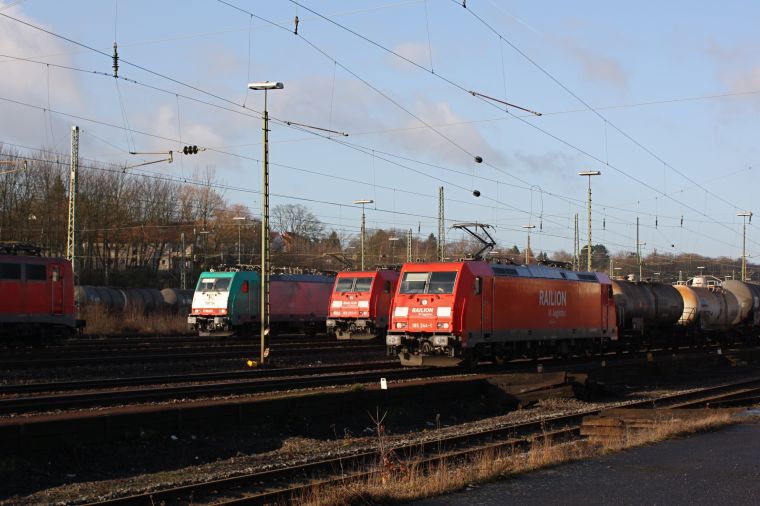 Posted: 19 December 2008
| | |
| --- | --- |
| Taken: | 2008-12-19 21:24:20 |
| Camera: | Canon EOS 1000D |
| Exposure: | -2/3 |
| ISO: | 200 |
| Aperture: | f/11.0 |
| Exposure Time: | 1/200 |
| Focal Length: | 34 mm |

This work is licensed under a Creative Commons Germany license.
Notes
What is the correct plural of Bombardier Traxx? I have absolutely no idea.
Yesterday I promised to take pictures of the new "Cobra" locomotives that have replaced diesels on the Montzenroute this sunday, and I did. It starts here in Aachen West freight station. From left to right, we first have 2826 respectively E 186 218 respectively 91 88 7186 218-4 B-SNCB, a TRAXX 2E MS F140, known in Germany as class 186. To the right we have 185 270 and 185 244, both TRAXX 2 AC2 F140 (class 185.2 in Germany), which are both not capable of operation under DC currents.
The interesting thing here is the 186 in it's odd paint scheme. It is owned by Angel Trains Cargo (it's their paint scheme), but leased to belgian national railroad SNCB or NMBS, and from there again rented to COBRA, which stands for Corridor Operations B-rail RAilion and is a cooperation project by SNCB/NMBS and DB. Cobra has a total of 40 of these locomotives ordered or already delivered. Interestingly, all of them have three separate numbers: First is the belgian four-digit one, here 2826. Then there is the six-digit one, based on german practices, here E 186 218. Finally, there is the full twelve-digit NVR (National Vehicle Register) one, which here reads 91 88 7186 218-4 B-SNCB (you'll notice that the six-digit version is a substring of this). I am going to use the belgian numbers because, well, they're by far the shortest and, on the actual locomotive, the largest.
Not happy with the picture? Neither am I, but I wanted to post the scene. There will be more, better ones, shortly.
0 Comments
New comments can no longer be posted because it got to annoying to fight all the spam.