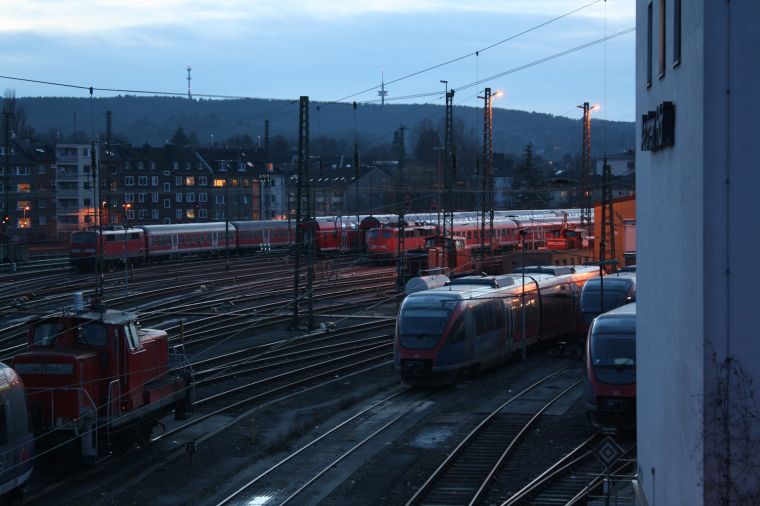 Posted: 25 January 2009

This work is licensed under a Creative Commons Germany license.
Notes
First of all: I'm referencing Portal here, not Mirror's Edge. Don't get me wrong, ME is nice, but Portal is great and Portal's song can beat up ME's song any day.
Someone keeps asking me whether there are still any class 110 electrics in Aachen, as they have completely disappeared in his region. So today, after all university work was done, I went out and looked for some. The most likely place to find them is always Aachen central station's depot, and indeed, I found one. Now, some might say I need more zoom, but I actually like the total ensemble here.
The 110 is the electric locomotive in the middle of the picture. The one to the very left is a class 111, which is far newer, but technically only an evolution of the 110. The three diesel switchers are the former DB class V60, now class 362 (in this case, thanks to rebuilds they are available in lots of different variations). According to rangierdiesel.de, 362 582 in the foreground is the oldest locomotive in this picture, having been delivered to DB on July 13th, 1960 (the 110 417 was built in 1966). Finally, as always, there's a herd of class 643.2 Bombardier Talent DMUs for the Euregiobahn (which is operated by DB, but has a modified livery)
0 Comments
New comments can no longer be posted because it got to annoying to fight all the spam.