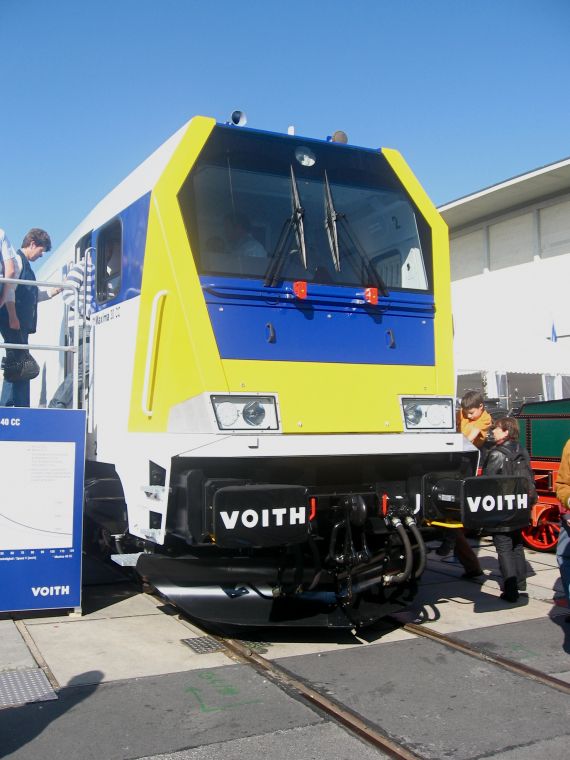 Posted: 28 September 2008

This work is licensed under a Creative Commons Germany license.
Notes
Voith has either been doing something very right or very wrong, either way their display was the most crowded, and it was surprisingly difficult to get their coveted swag (Maxima punch-out sheets and tie pins), and it was just about impossible to get into the locomotives themselves, which were open, but had enormous lines.
Voith isn't new to locomotive construction. If you want a hydraulic transmission for your diesel engine, Voith is the place to go. The Kiel, Germany based company is the market and technology leader in this area. They also build a lot of other parts, such as axle gear sets, couplings and so on. Still, it was kind of a surprise when they arrived at Innotrans 2006 with the Maxima 40C, their first own diesel locomotive. The Maxima 40C is at 3600 kW (4800 HP) the most powerful diesel with hydraulic transmission there is. This is the Maxima 30C, mostly similar but with only 2750 kW power (3600 PS), but a larger fuel tank.
The company has been surprisingly successful already. Recently it was announced that they received an order of 130 engines of their road-switcher type, Gravita, by DB, which is the first significant diesel locomotive order since more than twenty years. Sadly, thanks to bad lighting and lots of crowds I haven't been able to take a good picture of the Gravita.
This Maxima, by the way, is going to OxTraction, a new leasing company that focuses only on Voith for the moment, so that it can have a larger influence on locomotive construction.
0 Comments
New comments can no longer be posted because it got to annoying to fight all the spam.