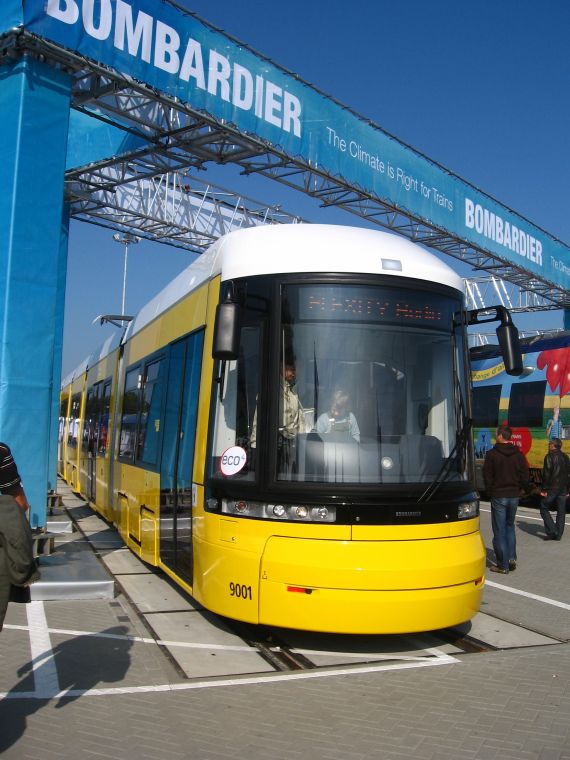 Posted: 3 October 2008

This work is licensed under a Creative Commons Germany license.
Notes
A few days before Innotrans, Bombardier presented the new Flexity Berlin for the first time in public, and of course it was then at the exhibition itself as well. It is a new tram type, developed specifically for Berlin (although of course based on a lot of other Bombardier designs), which is meant to replace that Tatra high-floor vehicles.
At the moment, there is a total of four prototype trains, real delivery will start in 2010 if all trials go well. This train has the name ZRL, which I guess means it has cabs at either end. There are a total of two trains for running in one direction (so only one cab) and two for two directions. One of each is 30 m (100 feet) and the other 40 m (130 feet) long. The trains are also all 2.4 m (7.9 feet) wide, which is 10 cm (4 inch) more than the currently used low-floor vehicles in Berlin. Of course it's completely low loor. The entire series belongs to the Flexity family of trams, which does not really mean a lot since the Flexitys vary a lot between them.
At Innotrans, this was by far the loudest vehicle, since small children were eager and allowed to test the turn indicators and the bells. I'd have liked to as well, but the lines were way too long.
0 Comments
New comments can no longer be posted because it got to annoying to fight all the spam.