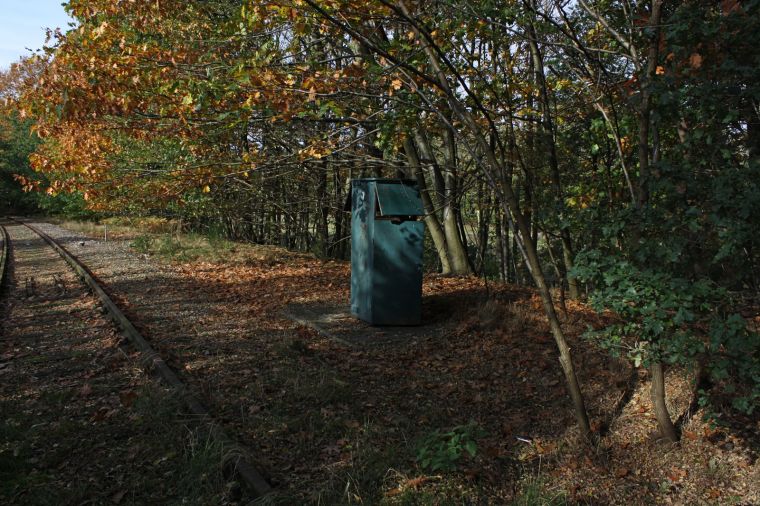 Posted: 20 October 2008
| | |
| --- | --- |
| Taken: | 2008-10-20 20:23:55 |
| Camera: | Canon EOS 1000D |
| Exposure: | -2/1 |
| ISO: | 200 |
| Aperture: | f/9.0 |
| Exposure Time: | 1/200 |
| Focal Length: | 18 mm |

This work is licensed under a Creative Commons Germany license.
Notes
Somewhere here has to be the border between Germany and the Netherlands. My GPS said so, but decided in the final moments that I was twenty meters away from the rail line entirely. Either way, while neither part is used, here is the border between the overgrown part of the Iron Rhine and the unused but well kept one - and as you'd expect, the german side isn't the good one. Either way, I'm pretty certain that this image shows mostly or maybe entirely Netherlands, although the border might be crossing through, but I have no idea at all where I personally was standing. I also don't have an idea what that metal box is doing there, except standing around, but I think it looks nice.
The European Union has it's critics, and not without reason. The high amounts of red tape from Brussels, coupled with an alarming lack of democratic oversight and transparency, is hardly optimal. However, when I can just walk over a border without being checked or even knowing precisely where it may be, and without having to change money or even have a passport with me, I can't help but the think that the EU is extremely cool.
0 Comments
New comments can no longer be posted because it got to annoying to fight all the spam.