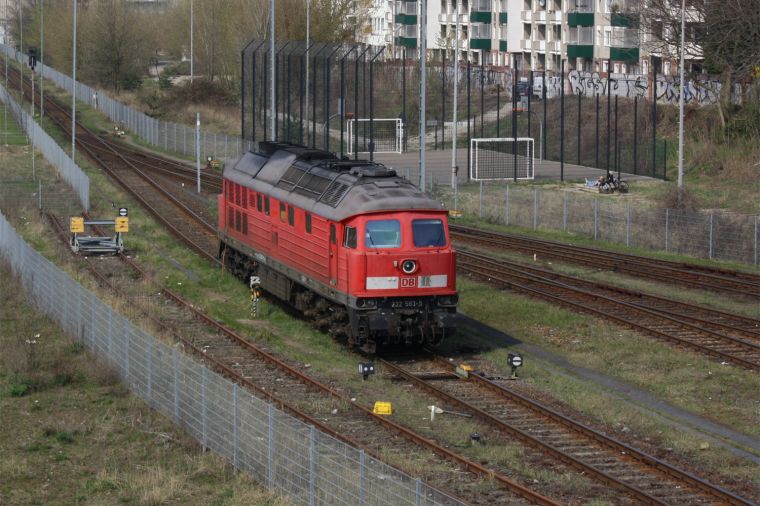 Posted: 20 April 2009

This work is licensed under a Creative Commons Germany license.
Notes
Nothing like a good Ludmilla every now and then, right? In case you don't know what I'm talking about, "Ludmilla" is the most common nickname for a locomotive family that started with the east german class 130 and now, after several rebuilds, spans the classes 230-234 and 241-242 (though not all of them at the same time). They were built in Luhansk, then Soviet Union but now Ukraine (sorry for all the times I accidentally called it "russian").
The class 232, seen here next to the Berlin S-Bahn station "Warschauer Straße" (Warsaw Street), is the most common type, which has a top speed of 120 kph (75 mph), a power output of 2200 kW (2950 HP) and HEP equipment. In an odd turn of events, this eastern bloc unit has made significant inroads further west, as it (specifically the class 242, which is a rebuilt version of the 232) is the strongest locomotive DB has. A number even have white contrast fronts and are used regularly in the Netherlands. Service to Belgium has ended, however, when that line was electrified.
Traffic red suits the locomotive, if you ask me, as long as it's not the dutch-compliant version, but the best livery is still the classic Epoch IV one (picture source: german Wikipedia).
0 Comments
New comments can no longer be posted because it got to annoying to fight all the spam.