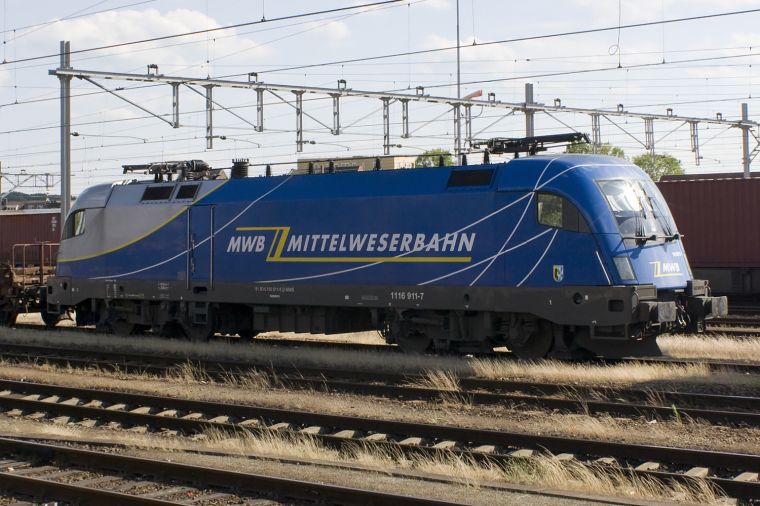 Posted: 14 June 2009

This work is licensed under a Creative Commons Germany license.
Notes
Tauri, that is to say Siemens ES 64 U, ES 64 U2 and ES 64 U4 locomotives, which are called Taurus by their launch customer, the austrian government railway ÖBB, are practically non-existent in the Netherlands. The newest type, the ES 64 U4 (ÖBB class 1216, also called Taurus III), can use dutch 1.5 kV DC electricity, but is currently not approved for service there. Only the Siemens demonstrator (which also holds the record holder for fastest single locomotive in the world) has been used there, for trials on the HSL Zuid/HSL 4 from Amsterdam to Antwerp (It's HSL Zuid in the Netherlands and HSL 4 in Belgium). However, as Venlo is a border station, you can see things there that you normally wouldn't.
Mittelweserbahn's 1116 911-7, NVR number 91 80 6 182 911-8 D-MWB, belongs to the ES 64 U2 subtype, which is capable of service with both 25 and 15 kV AC, so it can't go any further into the Netherlands than where it is at the moment without help from a diesel locomotive. It's part of an order of two by a consortium of german private railways, although the company who operated the other one has since folded, so both wear MWB branding now. I have to say, Tauri are locomotives that hardly ever look bad, but Mittelweserbahn has managed to find a particularly attractive paint scheme.
0 Comments
New comments can no longer be posted because it got to annoying to fight all the spam.