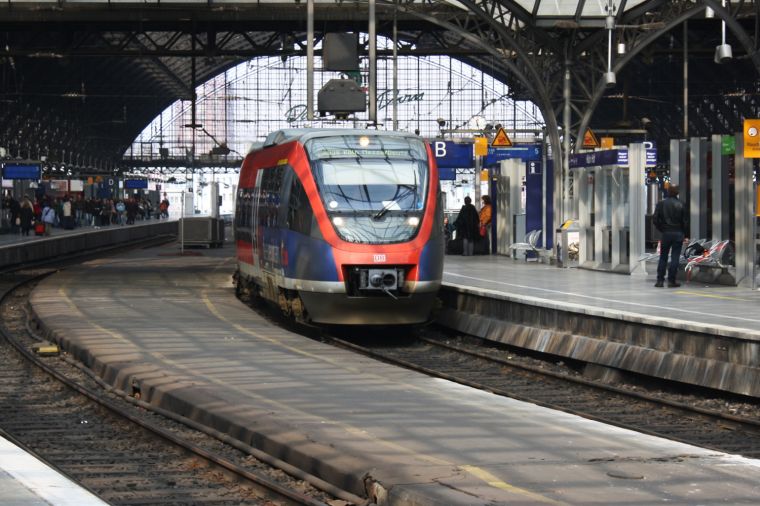 Posted: 8 March 2009

This work is licensed under a Creative Commons Germany license.
Notes
Some if not most people online get it wrong: I don't live in Cologne (I alternate between Aachen and Goslar), I just like to go there to take pictures because the station is so active and looks so good. Also, it has a certain sort of chaos about it that I really enjoy, and that you can see nicely here: Trains, signs, indicators, signals, steel beams of various sorts and of course lots and lots of people everywhere.
In my huge Backlog collage I've talked about how the class 644 "Bombardier Talent" DMU looks a little fat from some angles, an impression I never have with the class 643.2 Talent seen here. I think the blue fields below the windows help a lot here, as does the empty roof. What do you think?
This DMU was bought specifically for the Euregiobahn network in Aachen (hence the special paint scheme), but they bought actually way too many of them, enough for the network at it's completion which won't happen before 2015. Hence, they also get redirected to other services, mainly the RB 38, connecting Düsseldorf and Cologne via a wide arc through rather boring countryside. Interestingly, normal regional services require some sort of first class, which these trains did not initially have. The solution was to put a sign over two seat rows and a yellow stripe there on the outside, just declaring otherwise normal second-class seats as first class. Not worth the upgrade price, if you ask me.
0 Comments
New comments can no longer be posted because it got to annoying to fight all the spam.