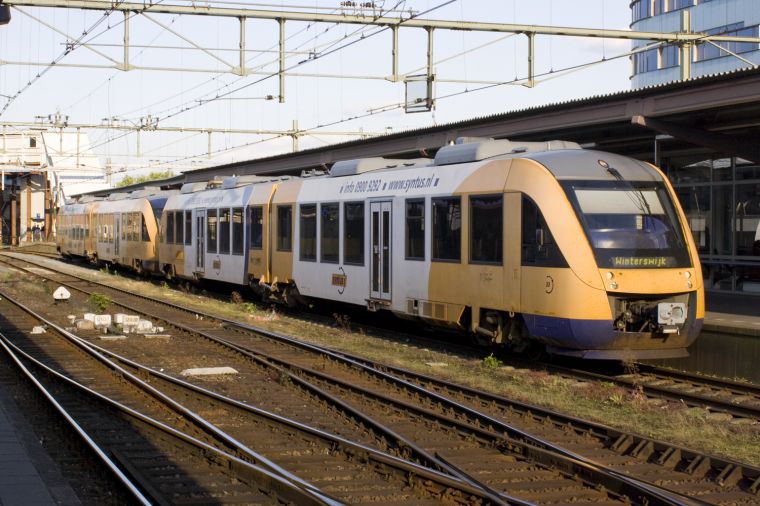 Posted: 18 June 2009

This work is licensed under a Creative Commons Germany license.
Notes
Elst was boring, but I saw on the signs that Arnhem was only 10 km away. The only thing I knew about Arnhem, railway-wise, is that one of the dutch ICE 3Ms is named after this city, so I figured it's got to be more interesting.
Turns out it was, but oh what a horrible station. First of all, I didn't find the official parking garage until when I left, meaning I ended up standing somewhere in the station's back yard (it was not expressly forbidden, though). More importantly, it is apparently being majorly rebuilt, which means the station building is a huge container, with ugly, dirty bridges leading to the platforms quite some distance away. The problem was: Every time I though "OK, I'll leave now", another interesting train came around.
The modern generation of light DMUs has been mostly built for german purposes by german manufactureres (the exception being the Stadler GTW series), resulting in a quite varied level of success internationally. Some didn't have any (Regioshuttle), some quite a lot (Siemens Desiro Continental can be found a lot in east and south-east europe). Alstom LHB's Coradia LINT (LHB used to be the german part of Alstom but was renamed recently) DMU saw some success in Denmark, as well as with dutch private company Syntus. Syntus seems to follow the habit of naming their trainsets, which I find is a nice touch, but the problem is that the names are written on the train as signatures, so I have no idea whose names those actually are.
4 Comments
Punaxe
There's a lot of trouble surrounding this planned new station. For some reason, apparently, nobody bothered to check how much money it was actually going to cost, and the money spent on the demolition of the original station turned out to be all they had available. And if I recall correctly, there's only one or two contractors in the run to continue building so they're asking very high prices.

That's how I heard it on a news show a while ago, but I don't know too much about it. You can sign up for a guided tour if you want: go to http://www.arnhemcentraal.nu and select Informatie > Aanmelden voor rondleiding. In the same menu, Fotogalerij gives an impression what they have planned, and what you'll probably be seeing during the tour.
Punaxe
Oh and the names of Syntus' trains are from famous people from the locality of where the train is driving - a way in which they try to strengthen the local ties. Wikipedia has a list: http://nl.wikipedia.org/wiki/Syntus
Thank you for all that information, very interesting! I did not actually expect any TRFs to visit this site, to be honest. :D
I update myself every once in a while :D You've got some pretty interesting projects going on, and well, I like photography too. :)
New comments can no longer be posted because it got to annoying to fight all the spam.