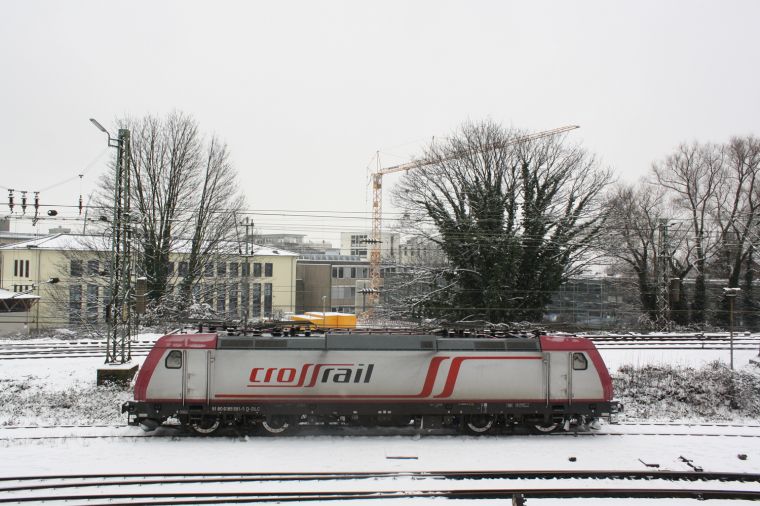 Posted: 6 January 2009
| | |
| --- | --- |
| Taken: | 2009-01-05 22:59:39 |
| Camera: | Canon EOS 1000D |
| Exposure: | 1/3 |
| ISO: | 200 |
| Aperture: | f/7.1 |
| Exposure Time: | 1/125 |
| Focal Length: | 18 mm |

This work is licensed under a Creative Commons Germany license.
Notes
I'm still sorting through the images from yesterday, didn't really have time today.
Bombardier's Traxx 2-platform is a prime example for a locomotive that does not look good with snow on the front, which is why I show you this one from the side. Not that it looks too pleasing that way either. The color near the cabs are the company colors of american BTMU (or actually the company they took over, but the colors haven't changed yet even for new units), while the red that so nicely not matches is from swiss Crossrail. Oddly enough, though, 91 80 6185 591-5 D-DLC (185 591 for friends) is registered in Germany to belgian DLC (which in turn belongs with Crossrail again).
In the background you can see the core area of the RWTH Aachen University. We don't have a real campus, but this is where a lot of the interesting stuff happens. There's always something being built, and I kind of forgot what this crane is doing there precisely.
0 Comments
New comments can no longer be posted because it got to annoying to fight all the spam.