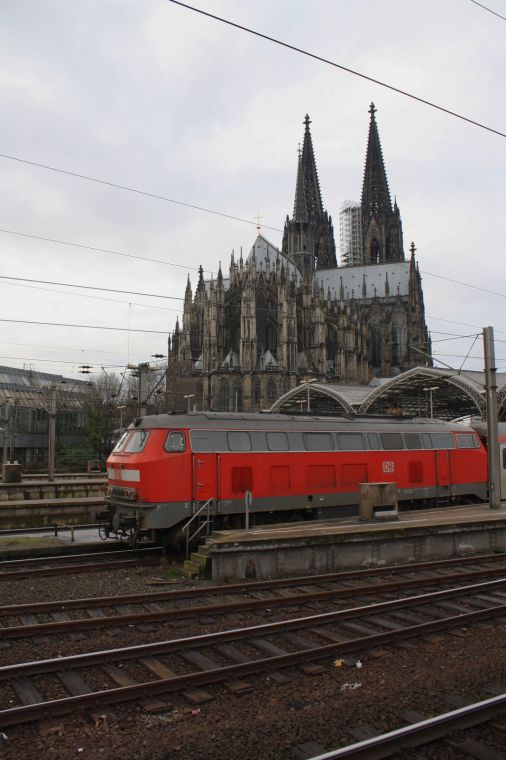 Posted: 11 December 2008
| | |
| --- | --- |
| Taken: | 2008-12-11 19:13:01 |
| Camera: | Canon EOS 1000D |
| Exposure: | -2/3 |
| ISO: | 200 |
| Aperture: | f/5.6 |
| Exposure Time: | 1/160 |
| Focal Length: | 18 mm |

This work is licensed under a Creative Commons Germany license.
Notes
I've long been unsure about whether I should post this picture. I've got many attempts of doing something like that, but none I'm fully happy with. This is the best I got, but I still think I should have zoomed out more. Oh well, I'll try getting a better one next time I'm in Cologne.
The class 218 diesel locomotive in front, pushing the train to Trier, isn't that interesting. Well, actually, it is, given that this is the last scheduled connection through/to/from Cologne central station that uses an actual diesel locomotive, but I've written about this elsewhere. Here, the important part is the Kölner Dom, or Cologne Cathedral, in the background.
It was built from 1248 to 1880, and no, that's not a typo. The original building phase ended about 1530 due to lack of funds and an altered political landscape (which was bound to change a lot in that period anyway) which saw Cologne's importance diminished. For three hundred years Cologne's inhabitants held the belief that the world would end once the cathedral was finished, but building was re-started in 1842 as a symbol of national unity, which was an extremely new idea for Germany at the time. The prussian king (not yet emperor) had a knack for romantic vistas, so he decreed that the Dombrücke (Cathedral bridge), a combined road- and railroad bridge and the first fixed rhine crossing since roman times, would have to lead straight up to the cathedral. Platforms within the church were, apparently, not considered a good idea, so the central station had to be fit in at almost a 90° angle to the tracks, resulting in an extremely tight curve in the remaining space.
When the bridge and central station (though not the cathedral) were replaced by new ones between 1907 and 1911 (the new bridge being the Hohenzollernbrücke or Hohenzollern Bridge), it was decided to retain this (already controversial) layout. This means that nowadays, cathedral, bridge and station have to be seen as one entity, and many of the best views of either include one or two of the other as well.
0 Comments
New comments can no longer be posted because it got to annoying to fight all the spam.