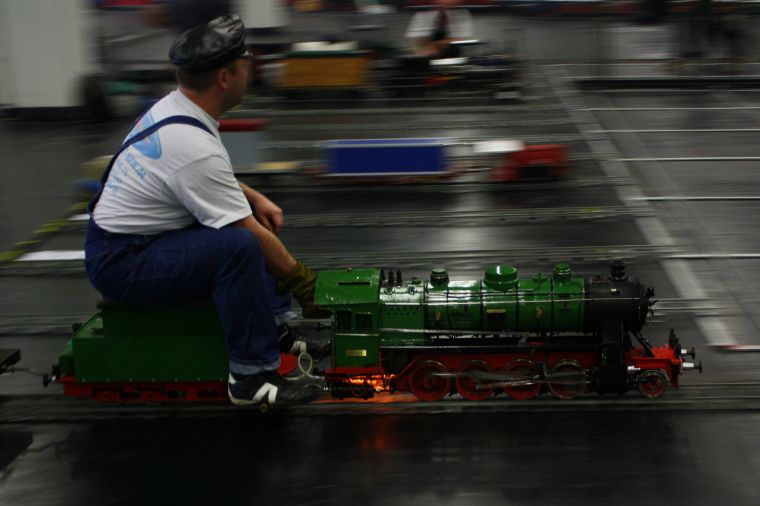 Posted: 9 November 2008
| | |
| --- | --- |
| Taken: | 2008-11-08 21:53:09 |
| Camera: | Canon EOS 1000D |
| Exposure: | -5/3 |
| ISO: | 500 |
| Aperture: | f/4.5 |
| Exposure Time: | 1/30 |
| Focal Length: | 29 mm |

This work is licensed under a Creative Commons Germany license.
Notes
I was today (no, wait, yesterday) at a trade fair in Cologne called Modellbahn, which is german for model railroad. As part of this there were three other exhibitions as well, one concerning some craft stuff that I seriously couldn't be bothered to be interested in, one with lots of LEGO and one concerning itself with Echtdampf Modellbau, or real steam models. It has a huge layout of huge-scale models, with 5"- and (by means of a third track along a portion of the route) 7.25" gauge. It's nowhere near as big as Sinsheim's (if you live anywhere near Sinsheim and are interested in steam engines at all, you absolutely should not miss the meet there), but it's still fun.
The prototype for this is (I guess, but I'm pretty certain) the prussian G8 (to be precise the G8.2 version, which has only two cylinders instead of three), before Germany had a unified railroad system. Later, it was known as class 56. It's driver seems to be rather interested in the system's depot, which has a transfer table. I personally like the open fire you can see here.
0 Comments
New comments can no longer be posted because it got to annoying to fight all the spam.