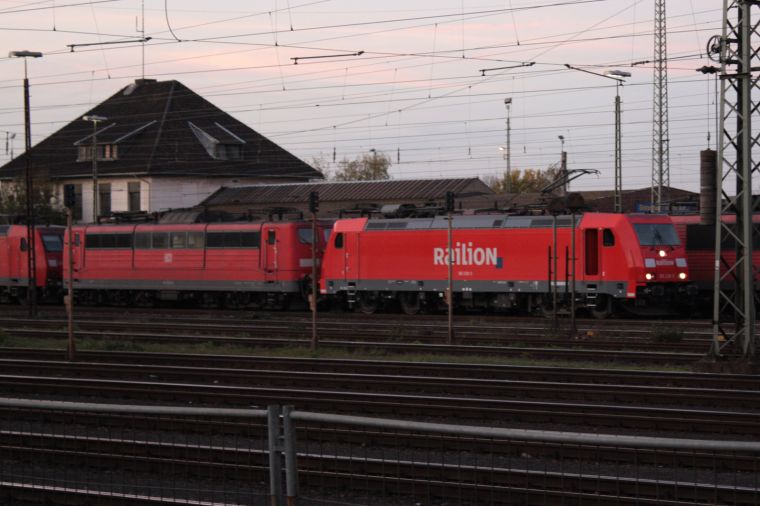 Posted: 21 October 2008
| | |
| --- | --- |
| Taken: | 2008-10-21 23:53:24 |
| Camera: | Canon EOS 1000D |
| Exposure: | -2/3 |
| ISO: | 800 |
| Aperture: | f/5.6 |
| Exposure Time: | 1/40 |
| Focal Length: | 55 mm |

This work is licensed under a Creative Commons Germany license.
Notes
There is no class called E51, nor was there ever, but had the class 151 been built four years earlier, that would have probably been it's designation before the great renumbering of 1968. Here, the second locomotive, the one without the open door, is an example of this type.
The 151 is the replacement and augmentation for the E50/150, a six-axle freight locomotive which is completely out of service these days, and is the last of the "Einheitsloks" (standard or unified locomotives) to which the class 140 (E40) and 110 (E10) belong. That being said, I'm not happy with this picture at all, since it shows the locomotive in the middle of a train, so let's just pretend the one in front was the interesting one, alright?
185 236 is a pretty standard Bombardier Traxx 2 AC2, equipped only for Germany as far as I can tell. If you're good, you can see the differences between the 185.2 and the 145 by comparing the locomotive to the left-most unit, of which you only see the cab. That 145 has a different cab shape in the lower part, and the upper roof line is also slightly different with the 185 having two distinct "horns", necessary since the higher voltage in France requires more distance to the overhead line. Being all bright and shiny, you'd expect that this locomotive would have the latest paint scheme. Well, no. As Railcolor.net explains in detail, there have been three new and different paint schemes used already since this unit was delivered in 2005. When I say that I don't know what name DB's freight division has at any particular point, I'm not (only) mocking them, I truly have no idea.
0 Comments
New comments can no longer be posted because it got to annoying to fight all the spam.