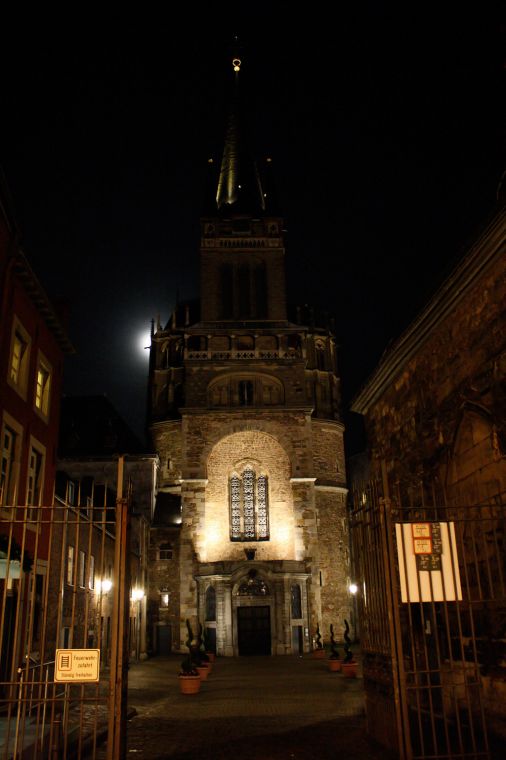 Posted: 15 December 2008

This work is licensed under a Creative Commons Germany license.
Notes
This picture turned out better than I had any right to expect at ISO 1600 and without a tripod. The real irony, however, is that I took it not five meters away from a very serious photographer, taking pictures in another direction, with tripod.
The Cathedral of Aachen, also known as the Imperial Cathedral, was built starting in 790 and was officially opened in 805, although it has since gained additions in just about any building style that was ever considered cool. It contains the tomb of the one known in german as "Karl der Große" and in french as "Charlemagne" (which is nearly a literal translation, his original name was probably in a language that nobody today would understand), and until the 1530s it was the place where nearly all kings of Germany were crowned (they would then go to Rome to be crowned emperor). The holy roman empire of german nation, which lasted from 800 to 1806, never had any real capital, instead the emperor moved from town to town. Some cities, such as Aachen (or indeed Goslar) were more important, however, and it can be said that Aachen was as close to a capital as it got (although other cities claim, not incorrectly, a similar title). The cathedral is a reflection of this, and its style was already copied a lot in medieval ages.
In 1978, it became the first german item on the list of UNESCO World Heritage sites (which also includes the medieval town center of Goslar, which got in earlier than the Cathedral of Cologne).
1 Comments
ulrich Kammer
Klasse Bild, besonders bei ISO 1600
New comments can no longer be posted because it got to annoying to fight all the spam.