Aachen Buses
Aachen yesterday is exactly what the term snow chaos was invented for. Sudden snow fall, slippery roads and winter services that just couldn't keep up brought most of the city's traffic to a halt in the afternoon. An especially nice touch were the many bus stops on steep grades, where the buses were unable to start after having stopped. Some of that did that in the Seffenter Weg road, at the Kastanienweg bus stop. Since surprisingly many people were interested in the pictures I posted of that on Twitter, I thought I'd post some pictures here as well, taken at the same time but with a real camera and tripod.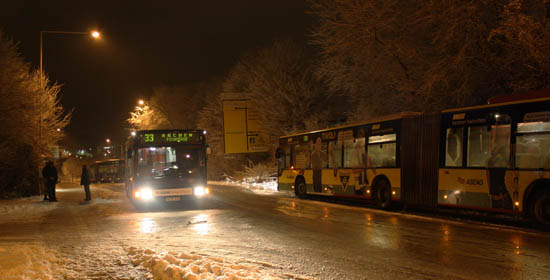 I'm not sure how correct the displays on the buses are. The line 33 doesn't run here normally, but some lines were redirected that day due to snow. If that was the case here, then this can well be considered a failure. Neither it nor the (not that well visible) 3B were able to get going on the incline. An interesting feature of pusher-style articulated buses is that they will fold in a way that makes them take up the most space possible in such a situation. From the looks of it 3A to the right apparently tried to pass them by going via the grass strip, which turned out to not work that well.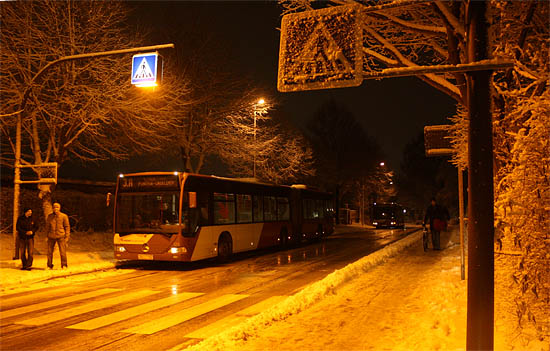 Cars still managed to get through, but buses had no chance, something that at least two of them did not realize in time, so they had to park and wait for it all to go away. Turning around is not really an option for these machines here.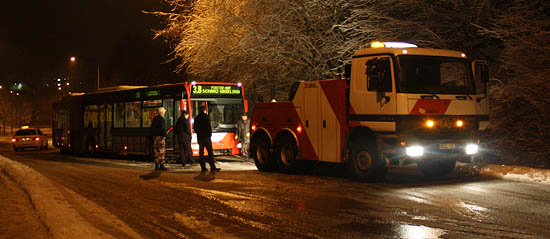 ASEAG, Aachen's bus operator, has its own tow truck, presumably for stuff that like this. However, according to reports from other parts of the city, it had quite a lot of work that day, and took about two hours to arrive at the scene. Here, it has just freed the first bus (the 33) and is now ready to pull the second one up, for which they are currently putting the drawbar in place.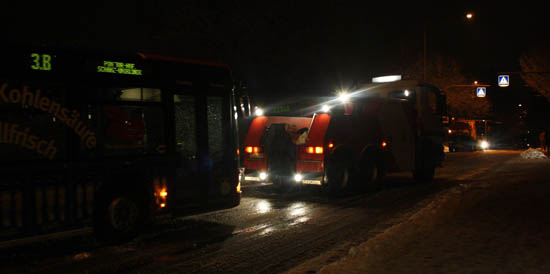 Although a sanding truck was there and spraying salt on the area in front of the bus, the tow truck had enough problems with grip itself and had some serious wheel slip as it was starting. Nevertheless, it got the bus up to where it could drive on its own again.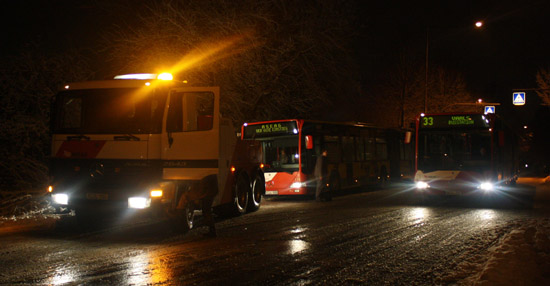 So only the bus in the grass remained, and it could be pulled out without too much trouble. Meanwhile, the parked busses could already depart.
According to some rumors, ASEAG busses never use snow tires. I have no idea how much of a difference that actually makes with heavy city buses, but looking at this, they should probably think about investigating means of increasing grip.
Written on February 2nd, 2010 at 05:03 pm
Ja die ASEAG fährt aus Kostengründen immer mit Sommerreifen.
"Klappt bestimmt, hat ja immer geklappt"

Mir hatte der Fahrer vom Abschleppwagen gesagt "Jedes Jahr wieder, immer an der selben Ecke". Klappt ist wohl relativ…

hutnik

Schöner Bericht, in Niedersachen hat man in vielen Bereichen den Busverkehr gleich eingestellt

hutnik

Schöner Bericht, in Niedersachen hat man in vielen Bereichen den Busverkehr gleich eingestellt

Das klingt auch toll. So weit ist es hier noch nicht.